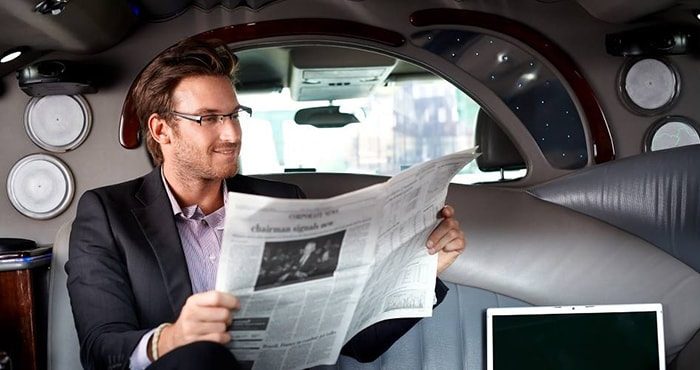 If you've always wanted to rent a limousine, but struggle to find the right opportunity, you might be wondering if you're limited to just proms, weddings, and parties — the top occasions for limo rental service. So here's a collection of (slightly unusual) ideas you probably haven't thought of.
1. Holiday Gift
Stuck on what to gift a friend for the holidays? Gift a limousine rental and you can be sure they'll remember you for it.
2. Moving Day
Moving out is exciting, but after all that driving, and carrying boxes, you're exhausted. The last thing you want is to put on a pair of oven mitts (if you could find them) and cook dinner. Schedule a limo instead to take you to your favorite restaurant. You deserve it.
3. Summer Picnic
If you know a great picnic spot, a limousine is a great way to get there. We won't tell if you start the picnic early.
4. Writer Party
If you're cooped up in your office alone, it's time to get out. The plan: Call a few writer friends and bring your laptops (limousines are often WiFi capable) and roll in style while punching those keys.
5. Fear Buster
If you have car anxiety, and you're trying to tackle it, renting a limo might make the whole experience easier. Before you know it, you'll be back on the road.
6. Moving Potluck
Here's what you do. Call a few friends, tell them there's going to be a potluck. Everyone brings something. But not just any potluck. It's a potluck in the back of a limo. Sweet.
7. New Mother
Giving birth is a special moment, so what better way to top it off than a limo ride back home in comfort. It'll be a story to tell later when your child is all grown up and asks about his or her birth.
8. Extra Credit
You're a teacher. And you've split everyone into teams for a class assignment. What's a good way to motivate your students? How about offer a limo rental as a prize. If anything, it'll be the talk of the campus.
9. Limos Make Everyone Photogenic
It's selfie time. Found a nice spot? Great. Now put a limo in it.
10. Interview Night Out
You're head of a large corporation, and you have two interview candidates to choose from. And you can't decide who's most fit for the position. Maybe you just need to loosen 'em up a little. A night on the town in a limo, and you're guaranteed to have your choice by night's end.
Sometimes the most unusual reason for doing something is for no reason at all. And that's okay. Limousines are cultural symbols of wealth, but you don't need to be wealthy to rent one, and your reasons for renting one don't have to be ordinary. And now is the right opportunity.