From Santa Barbara all the way to San Diego, each beach area in Southern California has its own unique charms. All the spots share in the natural beauty of the Pacific Ocean. The weather here is sunny and mild all year round, making for a delightful vacation. Here are ten top beaches in Southern California in no particular order.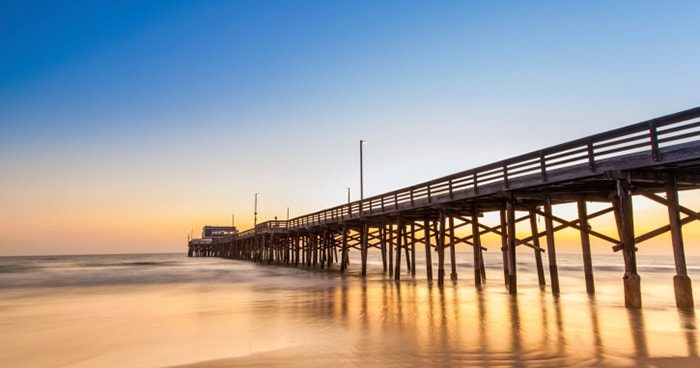 Laguna Beach
Located midway between Los Angeles and San Diego, this beach has more than 20 coves within the limits of the city. Each beach comes with a unique recreational experience, ranging from tide pooling to skim boarding. Plenty of hotels give you accommodation with access to the ocean breeze and sounds of the waves.
Coronado Central Beach
This spot provides you with 1.5 miles wide of sandy beach ideal for surfing, sunbathing and swimming. This beach is flat, which provides a suitable platform for walks and skim boarding. You enjoy free parking on the ocean boulevard.
El Matador Beach
The winding Pacific Coast Highway takes you straight to this hidden paradise just north of Malibu. The beach is famous for its white sand, craggy rock formation and towering cliffs. The layout of this place is suitable for a photo shoot.
Malibu Lagoon State Beach
White sand, a lagoon, and wetlands form the main attractions of this beach. You can enjoy tide pooling, swimming, bird viewing, surfing and volleyball courts, or go for bird watching. The beach is easily accessible easily along the Pacific Coast Highway.
La Jolla Cove, San Diego
This forms part of the San Diego La Jolla Underwater Park Ecological Reserve. The beach is sheltered by picturesque cliffs, also offering stunning views of the Pacific Ocean. This beach boasts of the clearest water in Southern California Beaches, making it ideal for snorkeling and scuba diving.
Crystal Cove State Park
This spot offers you 3.5 miles of coastline ideal for surfing, swimming, and tide pooling. The park also has offshore waters that are designed as an underwater park that allows you to enjoy scuba diving and skin diving. Parking is available at the Reef Point, Pelican Point, and Los Trancos.
Santa Monica State Beach
This beach represents one of the main reasons for visiting Santa Monica. It stretches for 3.5 miles along the coastline, offering opportunities for cycling, biking, surfing, movie shoots, and volleyball games. This part of California enjoys on average 340 days of sunshine annually.
Hermosa Beach
This wide, flat beach is one of the most popular places for beach volleyball in the world. The beach is home to the AVP Hermosa Beach Open tournament. It is also ideal for sunbathing, kite flying, and surfing with various entertainment spots. Over 50 restaurants are available serving sushi, Italian, Thai, Mexican, and other international dishes.
Venice Beach
If you are hippy and you want a beach that matches your style, Venice Beach is for you. The beach was designed in the 1900s as a mini version of Venice, Italy, complete with gondolas and canals. After biking or relaxing in the sun, you can sit in one of the beachfront restaurants and enjoy the breeze.
Newport Beach
This gives you more than 10 miles of coastline to surf, hike, watch birds, swim, or just relax in the sun. One of the unique activities here is whale watching, where you can get a chance to see the great blue whale.
One of the best ways to start your holiday is to rent a limousine to take you to your hotel room. You can then take the limousine the next day to all the spots in unmatched comfort and style.